At Studio Pressurat
get a massage that will meet your needs and desires
Feeling constantly stressed with your pace of life?
Your heavy work-load drains your energy?
Your nights seam too short to restore your energy?
Sore muscles keep you from doing your favourite activities?
You're on vacation, but you just cannot relax?
If these sad realities of modern living sound all too familiar, perhaps you should take a moment to think it through... Don't you deserve to give yourself the ultimate gift? A gift that will bring you well-being and pleasure? One that will allow you to unwind, and help you to manage your overwhelming stress?
At Studio Pressurat, "letting yourself go under the magic touch of an expert in massage therapy is not only an act of pleasure, but also a sensible, intelligent and contemporary act... You literally disconnect -- you reset your clock, you shift gears. (...) Depending on the type of massage, you can benefit from total relaxation or an energy booster, whatever the moment calls for".
Other services
Explore our other services and enjoy the Studio Pressurat experience
With spa treatments at our massage therapy center you can also benefit of the different facilities of the Sheraton Montreal Hotel located across from the Studio Pressurat.
Open daily, our sixth floor SPA/health club features a superb indoor, atrium style lap pool, a dry sauna, a whirlpool, a fully equipped state-of-the-art fitness centre and a beautifully landscaped terrace that is open in the summer. Bring your swimsuit and sandals to enjoy our services.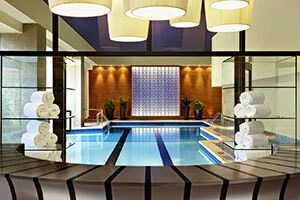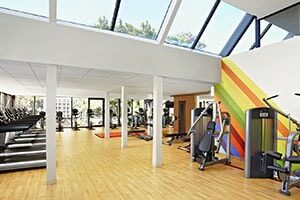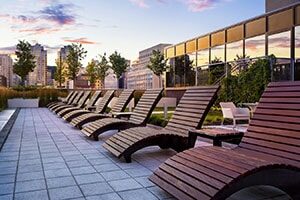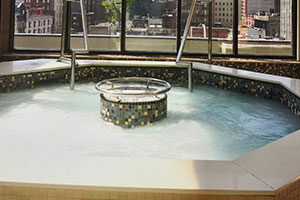 The origins of massage and massage therapy
The word massage has its roots from Greek, Hebrew and Arabic, meaning pressing lightly, kneading and more generally: TOUCHING.
Massage therapy were used as early as 3000 BC! For the physician Hypocrite (460-377 BC), a daily scented bath and a massage with essential oils were the secret to a good health.
During the Renaissance, while the medical profession was regaining prestige, massage therapy reached new heights. Ambroise Pare (1517-1590) and Mercurialis (1530-1606) were two famous doctors who added massage therapy to their medical approach.
In the late nineteenth century, practitioners established that their selection criteria should include enjoying good health, being sane and being a good moral character.
During the twentieth century, conventional medicine cast in shadow these therapies practiced for centuries, as the results achieved by science and its new technologies lead to forget the therapeutic value of massage.
Today, massage therapy is becoming increasingly popular as people return to the therapeutic values of massage in response to stressful conditions of modern life.
Message therapy is more than just a moment of relaxation, it helps reduce stress, relieves certain illnesses and improves the state of health.